Certificate in Medical Reception & Terminology
Become a Certified Medical Receptionist and learn medical language the easy way
Developed by health experts, this Career Academy course will teach you how to use Microsoft Office in managing the day-to-day running of a medical practice. You'll have the opportunity to develop the skills needed to communicate clearly and effectively in a medical environment. Working with an experienced tutor, you'll be able to master medical terminology and abbreviations. With this course, you'll find just how valuable it is when it comes to opening doors in the medical profession.
Lots of benefits to be had
Gain a certificate of achievement and work towards becoming a medical receptionist.
Gain a practical understanding of Microsoft Word, Excel and Outlook.
Easy ways to learn medical terminology and abbreviations.
Increase your chances of a new job or promotion.
Medtech provides software solutions for the healthcare environment enabling health professionals to efficiently manage their patients – learn how to use this in your course.
Includes a FREE bonus module on how to use Medtech and a 352 page Medtech training guide .
Covering the following modules
Role of a Receptionist
Medical Reception Service Skills
Time Management, Ethics and Professionalism
Maintain Patient Records
Effective Business Communication
Introduction to Microsoft Word
Understanding Medicare
Workplace Health and Safety
First Aid and Medical Emergencies
Customer Relationship Management
Introduction to Medtech Evolution (optional)
Scope and Nature of Medical Terminology
Anatomical Terms and Structures
Medical Equipment and Procedures
Pharmacological Terminology
Musculoskeletal System
Cardiovascular, Lymphatic and Immune System
Respiratory and Reproductive Systems
Digestive and Excretory Systems
The Skin
Nervous and Sensory Systems
Course summary
Start date: Get instant access within 1 business day.
Duration: Approximately 160 hours. Learn at your own pace, but ideally complete one module per week.
Access time: You'll have 24/7 access to your course for up to 6 months until you complete.
Delivery and support: 100% online with unlimited tutor support from experienced professionals via phone and email. Ask questions anytime and your tutors will respond during business hours.
Assessments: Includes practical assessments, case studies, multiple choice questions, quizzes, plus written assessments
Qualification information: Be awarded with an industry and employer recognised certificate of achievement on successful completion of this course.
Investment: $1295+GST or only $25 per week on an interest free payment plan.
This Course is accredited by ICOES
The International Council for Online Educational Standards (ICOES) guarantees you a high standard of content with measurable outcomes from a reputable training organisation. ICOES is the accrediting body that monitors and continually develops the educational standards of online teaching institutions.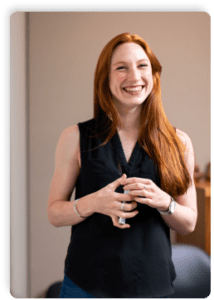 Receive unlimited support from experienced tutors!
Our professional tutors at The Career Academy are industry experts who are passionate about helping students succeed. 
The're committed to providing exceptional online course support and personal tutoring to help you succeed. Throughout your course, you'll receive unlimited tutor support via phone and email.
Be awarded with an Industry & Employer Recognised Certificate
Upon successful completion of your course, you'll be presented with a Professional Certificate by The Career Academy. This is an industry recognised certificate which will go a long way to helping you get a new job or promotion. You'll also be given access to our exclusive Career Centre and be eligible for a free CV Review.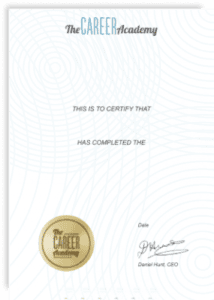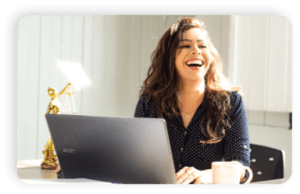 1. Click on "Get Started Now"
2. Decide payment option – full payment or no deposit, interest free payment plan from only $25/week
3. Receive your course login details via email and start learning!