Advanced Excel Package & Advanced Xero Package
Get two industry recognised qualifications and become a Xero & Excel expert!
This package combines the Advanced Xero Package and the Advanced Excel Package. It will give you a comprehensive and workforce ready understanding of both Excel and Xero, giving you essential and highly sought after skills for any accounting, bookkeeping, finance or administration role.
All the right choices
Upskill in Xero & Excel and gain two qualifications to add to your CV
Enhance your Excel and Xero skills and become confident and savvy with Excel and Xero, learning essential skills to perform advanced accounting functions
Receive comprehensive one-on-one tutor support
Flexible start dates – enrol online and start when you are ready
Updated courses with the latest Xero functions, tips and tricks
Upon successful completion, receive Xero's official advisor certification in addition to your course qualification
Flexible online study – work at your own pace, in your own time.
Covering the following modules
Course summary
Start date: Get instant access within 1 business day.
Duration: Approximately 80 hours. Learn at your own pace, but ideally complete one module per week.
Access time: You'll have 24/7 access to your course for up to 6 months until you complete.
Delivery and support: 100% online with unlimited tutor support from experienced professionals via phone and email. Ask questions anytime and your tutors will respond during business hours.
Assessments: Includes practical assessments, case studies, multiple choice questions, quizzes, plus written assessments
Qualification information: Be awarded with an industry and employer recognised certificate of achievement on successful completion of this course.
Investment: $1295+GST or only $25 per week on an interest free payment plan.
This Course is accredited by ICOES
ICOES, the International Council for Online Educational Standards guarantees you a high standard of content with measurable outcomes from a reputable training organisation. ICOES is the accrediting body that establishes, monitors and continually develops the educational standards of online teaching institutions.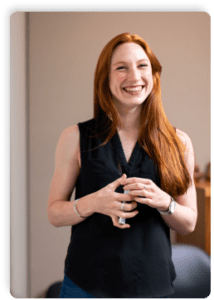 Receive unlimited support from experienced tutors!
Our tutors at The Career Academy are industry experts who are passionate about helping students succeed. Students receive unlimited tutor support via phone and email. Our tutors are committed to providing exceptional online courses and personal tutor support.
We offer a range of employer recognised courses as well as specialist courses to improve job performance.
Be awarded with an Industry & Employer Recognised Certificate
Professional Certificates by The Career Academy help you get job-ready for an in-demand career field. Earn a career credential, apply your knowledge to hands-on projects that showcase your skills for employers, and get access to job search resources. Many programs also provide a pathway to an industry-recognized certification.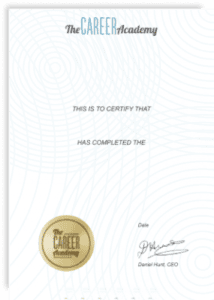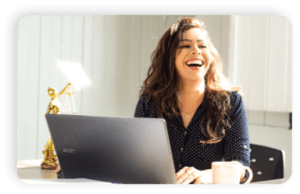 1. Decide payment options
2. Click on Enrol
3. Receive account details via email and start learning!