Introduction to Abnormal Psychology (Mental Disorders)
Develop awareness of a range of common psychological disorders
Understand psychological ailments, Aetiology, symptoms, prognosis, and possible treatment options. Whilst the course largely mirrors classifications systems used in the DSM and ICD, the student is also encouraged to consider issues such as how do we define normality and abnormality, and when is an individual's behaviour within the bounds of what is regarded as "normal" in society – and when is it "abnormal".
Key benefits
Gain an Introductory Certificate in Abnormal Psychology
Learn a wide range of psychological disorders and ailments
Developed and delivered by a qualified Psychologist
Receive unlimited one-to-one tutor support
Complete online in your own time, at your own pace
Receive a FREE 12 month membership to the International Association for Counselling
This course is for
Anybody wanting to expand their current understanding of psychology.
Those looking to increase their knowledge of complex psychological issues.
People looking to take a career step in the mental care industry.
Comprising the following modules
1. Principles of Life Coaching
2. Coaching Skills and Processes
3. Setting SMART Goals
4. Advanced Coaching Techniques
5. Change Management – Boost Performance During Change
6. Effective Time Management
7. Developing a Vision and Mission Statement
8. The Perfect Coaching Session
9. Ethics, Boundaries and Safety
10. Business Principles and Setting up a Coaching Business
Course summary
Start date: Get instant access within 1 business day.
Duration: Approximately 100 hours. Learn at your own pace, but ideally complete one module per week.
Access time: You'll have 24/7 access to your course for up to 6 months until you complete.
Delivery and support: 100% online with unlimited tutor support from experienced professionals via phone and email. Ask questions anytime and your tutors will respond during business hours.
Assessments: Includes practical assessments, case studies, multiple choice questions, quizzes, plus written assessments
Qualification information: Be awarded with an industry and employer recognised certificate of achievement on successful completion of this course.
Investment: $395+GST or only $25 per week on an interest free payment plan.
This Course is accredited by ICOES
The International Council for Online Educational Standards (ICOES) guarantees you a high standard of content with measurable outcomes from a reputable training organisation. ICOES is the accrediting body that monitors and continually develops the educational standards of online teaching institutions.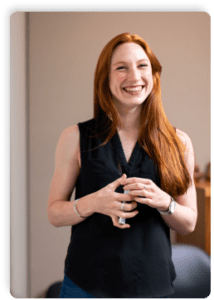 Receive unlimited support from experienced tutors!
Our professional tutors at The Career Academy are industry experts who are passionate about helping students succeed. 
The're committed to providing exceptional online course support and personal tutoring to help you succeed. Throughout your course, you'll receive unlimited tutor support via phone and email.
Be awarded with an Industry & Employer Recognised Certificate
Upon successful completion of your course, you'll be presented with a Professional Certificate by The Career Academy. This is an industry recognised certificate which will go a long way to helping you get a new job or promotion. You'll also be given access to our exclusive Career Centre and be eligible for a free CV Review.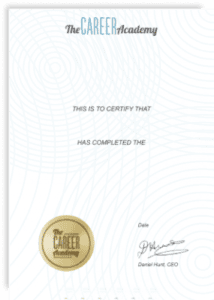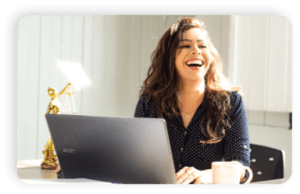 1. Click on "Get Started Now"
2. Decide payment option – full payment or no deposit, interest free payment plan from only $25/week
3. Receive your course login details via email and start learning!