Certificate in MYOB AccountRight
Quickly learn MYOB AccountRight software at the beginner level
Learn the quick and easy way to manage business accounts using MYOB AccountRight. This is a great course designed for business owners or managers, accounts people or anyone managing business accounts, or for those who are looking to further their knowledge in MYOB AccountRight software. Plus, you'll receive six months free access to MYOB.
Count the major benefits
Learn how to use MYOB AccountRight to manage your own business accounts or your client's accounts.
Gain a strong understanding and practical knowledge of MYOB AccountRight to advance your business or career.
Be rewarded with an industry recognised qualification; a Certificate in MYOB AccountRight is a frequent request of employers.
Earn 10 Continuing Professional Development hours and receive unlimited tutor support from experienced professionals.
Flexible online study; work at your own pace, in your own time.
The Career Academy is a MYOB Education Partner; Get the latest course material, tips and tricks on how to use MYOB.
With a Certificate in MYOB AccountRight, there's a number of valuable things you'll learn
Get up and running properly with MYOB and set up initial customer records.
Process sales and payments and prepare bank reconciliations.
Access resources and additional support.
Covering the following modules
Setup & Introduction for MYOB AccountRight
Chart of Accounts in MYOB AccountRight
Contacts in MYOB AccountRight
Banking with MYOB AccountRight
Inventory, Quotes & Invoicing in MYOB AccountRight
Receive Payments & Pay Bills in MYOB AccountRight
Bank Reconciliation & Reporting in MYOB
Payroll in MYOB AccountRight
Course summary
Start date: Get instant access within 1 business day.
Duration: Approximately 15 hours. Learn at your own pace, but ideally complete one module per week.
Access time: You'll have 24/7 access to your course for up to 6 months until you complete.
Delivery and support: 100% online with unlimited tutor support from experienced professionals via phone and email. Ask questions anytime and your tutors will respond during business hours.
Assessments: Includes practical assessments, case studies, multiple choice questions, quizzes, plus written assessments
Qualification information: Be awarded with an industry and employer recognised certificate of achievement on successful completion of this course.
Investment: $395+GST or only $25 per week on an interest free payment plan.
This course is accredited by ICOES
The International Council for Online Educational Standards (ICOES) guarantees you a high standard of content with measurable outcomes from a reputable training organisation. ICOES is the accrediting body that monitors and continually develops the educational standards of online teaching institutions.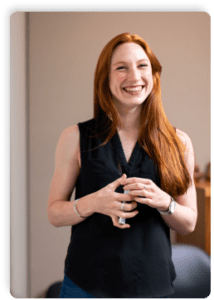 Receive unlimited support from experienced tutors!
Our professional tutors at The Career Academy are industry experts who are passionate about helping students succeed. 
The're committed to providing exceptional online course support and personal tutoring to help you succeed. Throughout your course, you'll receive unlimited tutor support via phone and email.
Be awarded with an Industry & Employer Recognised Certificate
Upon successful completion of your course, you'll be presented with a Professional Certificate by The Career Academy. This is an industry recognised certificate which will go a long way to helping you get a new job or promotion. You'll also be given access to our exclusive Career Centre and be eligible for a free CV Review.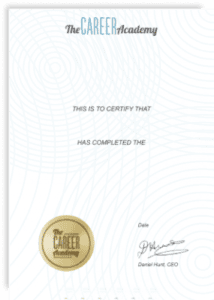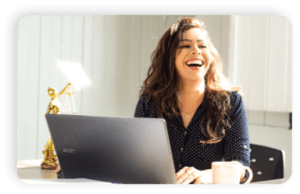 1. Click on "Get Started Now"
2. Decide payment option – full payment or no deposit, interest free payment plan from only $25/week
3. Receive your course login details via email and start learning!