AAT Qualified Bookkeeper Pathway
Take the right path to fast track your career
You're well on the road to success once you have this course under your belt. You'll become a professional AAT Qualified Bookkeeper where you'll learn to balance the books, prepare BAS returns and prepare business accounts, plus then use the prestigious AAT membership to launch your own bookkeeping business or career. There's also an exciting FREE 12-month membership to AAT on completion.
The course with so many pluses
Become an AAT Qualified Bookkeeper with exclusive access to online resources – including industry leading e-learning modules and webinars.
AAT is the world's leading professional body for accounting technicians, with over 140,000 members.
Gain access to the CCH Wheelers eLibrary with over 50 textbooks, including the Master Bookkeepers Guide.
Flexible online study – work at your own pace in your own time and receive unlimited one-on-one tutor support.
The Career Academy is a an Official MYOB and Xero Education Partner – get up to six months access to MYOB included with your course, plus gain the Official Xero Advisor Certification.
Add the letters AATQB (AAT Qualified Bookkeeper) after your name once you're a member.
Covering the following modules
Accounting and Bookkeeping Fundamentals
General Journal
General Ledger and the Trial Balance
Depreciation
Adjusting Entries
Financial Statements
Understanding GST
Fundamentals of Payroll
Accounting with MYOB Essentials
Accounting with Xero
Budgeting, Forecasting, and Cashflow Management
Bookkeeping using Microsoft Excel
AAT Assessment of Competence
Course summary
Start date: Get instant access within 1 business day.
Duration: Approximately 140 hours. Learn at your own pace, but ideally complete one module per week.
Access time: You'll have 24/7 access to your course for up to 6 months until you complete.
Delivery and support: 100% online with unlimited tutor support from experienced professionals via phone and email. Ask questions anytime and your tutors will respond during business hours.
Assessments: Includes practical assessments, case studies, multiple choice questions, quizzes, plus written assessments
Qualification information: Be awarded with an industry and employer recognised certificate of achievement on successful completion of this course.
Investment: $1250+GST or only $25 per week on an interest free payment plan.
This course is accredited by ICOES
The International Council for Online Educational Standards (ICOES) guarantees you a high standard of content with measurable outcomes from a reputable training organisation. ICOES is the accrediting body that monitors and continually develops the educational standards of online teaching institutions.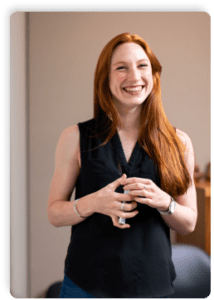 Receive unlimited support from experienced tutors!
Our professional tutors at The Career Academy are industry experts who are passionate about helping students succeed. 
The're committed to providing exceptional online course support and personal tutoring to help you succeed. Throughout your course, you'll receive unlimited tutor support via phone and email.
Be awarded with an Industry & Employer Recognised Certificate
Upon successful completion of your course, you'll be presented with a Professional Certificate by The Career Academy. This is an industry recognised certificate which will go a long way to helping you get a new job or promotion. You'll also be given access to our exclusive Career Centre and be eligible for a free CV Review.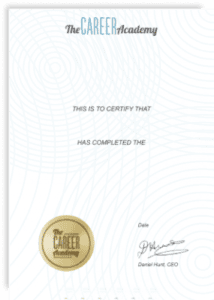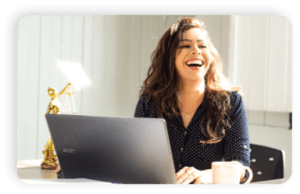 1. Click on "Get Started Now"
2. Decide payment option – full payment or no deposit, interest free payment plan from only $25/week
3. Receive your course login details via email and start learning!