AAT Accounting Pathway Program
How to get your accounting career really moving
This is the course for those who love to take bold steps to champion their career. This program is unique to The Career Academy and specially designed for those working, or who have worked in an entry through to intermediate level accounting role. Comprising of a Certificate in Accounting and Advanced Certificate in Accounting, it's a program for those with the desire to gain a formal qualification and recognition of their experience.
Unique benefits
Fast track your accounting career, increase your earning potential and get ahead with an award winning AAT Approved Training Provider.
Gain AAT Student Membership on enrolment, giving you access to a wealth of advice and support to guide you through your studies and into your future career.
Get access to The Career Center – get a FREE CV Review and job tips to help you succeed
Receive unlimited tutor support via phone and email
This course is recognised by the Institute of Public Accounts (IPA) so you receive FREE Student Membership to IPA on enrolment and Graduate Associate Membership of IPA upon completion! 
Certificate in Accounting
Take the first step with our 
Certificate in Accounting
which will give you a sound knowledge of the theory and practice of bookkeeping and business accounting. Gain employment and improve your career prospects by increasing your competence and skills in practical accounting areas.
Advanced Certificate in Accounting
Step two is completing the
Advanced Certificate in Accounting
. This compressive qualification covers higher accounting tasks, including drafting financial statements, managing budgets and evaluation of financial performance. This comprehensive course builds on the practical accounting skills and knowledge obtained through the Certificate in Accounting. It will further enhance your accounting skills, enabling you to pursue a career in accounting, finance or business.
Course summary
Start date: Get instant access within 1 business day.
Duration: Approximately 400 hours. Learn at your own pace, but ideally complete one module per week.
Access time: You'll have 24/7 access to your course for up to 18 months until you complete.
Delivery and support: 100% online with unlimited tutor support from experienced professionals via phone and email. Ask questions anytime and your tutors will respond during business hours.
Assessments: Includes practical assessments, case studies, multiple choice questions, quizzes, plus written assessments
Qualification information: Be awarded with an industry and employer recognised certificate of achievement on successful completion of this course.
Investment: $2450+GST or only $25 per week on an interest free payment plan.
Covering the following modules

This Course is accredited by ICOES
The International Council for Online Educational Standards (ICOES) guarantees you a high standard of content with measurable outcomes from a reputable training organisation. ICOES is the accrediting body that monitors and continually develops the educational standards of online teaching institutions.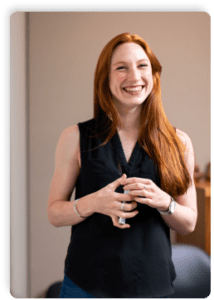 Receive unlimited support from experienced tutors!
Our professional tutors at The Career Academy are industry experts who are passionate about helping students succeed. 
The're committed to providing exceptional online course support and personal tutoring to help you succeed. Throughout your course, you'll receive unlimited tutor support via phone and email.
Be awarded with an Industry & Employer Recognised Certificate
Upon successful completion of your course, you'll be presented with a Professional Certificate by The Career Academy. This is an industry recognised certificate which will go a long way to helping you get a new job or promotion. You'll also be given access to our exclusive Career Centre and be eligible for a free CV Review.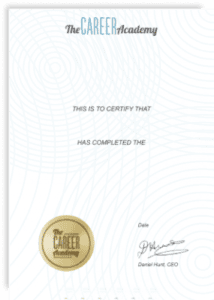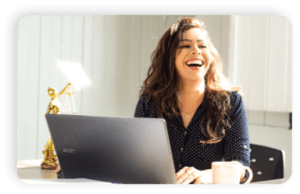 1. Click on "Get Started Now"
2. Decide payment option – full payment or no deposit, interest free payment plan from only $25/week
3. Receive your course login details via email and start learning!